Background
My Mother, Isobel, lives 10 houses down the road from us at #14 and is one of the "Silver Surfers" using her computer and now iPad Mini daily for internety stuff. She is pretty saavy when it comes to the net, however being a nice human being some of the more nefarious scallywaggery that goes on can still catch her out. It was a nasty email that looked like something she was actually expecting caught her out and her email got compromised by a scammer. I did the change all the passwords thing, however they had put in place a forwarder on her email account to i.mcdonagh@outlook.com which remained active. The owner of this account made the mistake of sending me a scam mail pretending to be my mother. Now it has been a while since I had the inclination to bait a scammer with the carrot of greed and stick of nonsense … but it is Christmas and he/she was pretending to be my mother … for your education and edification here is the conversation we had
———————————————————————————————-
23 December 2014
Hi son! How are you? My mail was hacked into, just changed my password, I will be very busy tomorrow, please I'd love to you to help me send some money to a brother in church via western union, and get back to with the mtcn, the brothers name is daniel morgan, the sum of 1500pounds use the church address!.
Love
Isobel
Mum
———————————————————————————————
23 December 2013
OH NO!! I am afraid there are many evil people in the world who will take advantage of someone who does not understand PC's.They are evil, evil people who have more than likely been abused in the past and have lost themselves to demonic possession and perhaps even are becoming followers of Satan's rancid flesh Sinn Fein party members!!
Do you need assistance with your PC. I can get an train home tonight and be with you first thing in the morning and I can help you with getting your email accounts back to normal. I was planing on comming back on Sunday to celebrate Póg an turcaí bod with the rest of the family but I can make new arrangments if you want.       
       
I am sorry to hear about Daniel Morgan, is he the replacement Aire na coiligh in St Xaviver's Sacred Turnip Chapel? I do miss those meetings with Doctor O'Toogerty or "Old Plangecock" as we used to call him after that incident with the chicken and the trifle in the nativity play. Oh how we laughed that Christmas, good times, good times. 🙂
Oh how I miss those services when the Royal Abstinent Rising Sons Of Cormac's Loyal Order Of Oliver Plunkett Fife and Drum Band would help out with a rousing chorus of  "Jesus wants me for a shamrock" I do miss those days down here in the big city surrounded by unbelievers, harlots and men that do unspeakable things. Yes .. unspeakable but that is Protestants for you !
Let me know how I can help and I can sort that out tomorrow before the banks close for Christmas and Póg an turcaí bod.
Loads of Love from Me
Steve xxx
PS make sure you never mention that Euromillions win to anyone, particularly now your email has been hacked!!!
[Editors note "Pog an turcai bod"  Kiss the turkey's cock and Aire na coiligh = Chief Cock]
———————————————————————————————-
Hello son!
Compliments! Yes maybe they have been abused in the past, and don't bother yourself coming down till on sunday for the celebration of pog an turcai bod.
I want you to send the money via WESTERN UNION MONEY TRANSFER, with the name: DANIEL MORGAN, use the church address. And get back to me with the MTCN. Please send it this morning so that he can get it today as well before the bank closes, €1500 thanks son.
Love
Isobel
____________________________________________________
Mum
I am glad you caught me before I left for the Gardai Christmas gala otherwise I would not have got this email until this evening. Detective Chief Inspector O'Mally of the Internet Fraud squad has put me incharge of the donkeys for the parade down O'Connell street! I have great hopes that this is a sign that 2014 will see me promoted to Sargent, but we will wait and see.
I have been down to the Western Union however since the Ulster Bank was used by the McGruntfuttock gang to launder their ill gotten gains from their Tinned Tuna smuggling operation from the UK. I still think that the Government was wrong to ban Tuna because of the chances of unobtanium  poisioning! However as you may not be aware any transaction of more than €1000 euros requires both parties to send a signed picture of themselves to the bank to ensure the police can recognise both the sender and the recipient. Can you contact Daniel Morgan and get him to send me a small picture of himself signed in green biro by email, once this is done I can get the wheels in motion.
Oh is Daniel Morgan Welsh by any chance because if he is her has to sign his name using his Welsh name. The UK customs and excise re very strict on that since the EU made them recognise the cultural exclusivity of the Welsh and Scottish! It is a small thing but can slow things down.
Oh it has been 3 years is the Church address still
14 Rua Cúradh Fual
Leithris
Coleraine
Or did they move like they said they would?
See you soon
Steve
[Ed note "Curadh Fual" = Foaming Urine and "Leithris" = Urinal]
________________________________________________________

Ok son! I'm happy for you! I don't want any further delay because of time! It christmas eve you know? Ok send the 1000euros then! So that he can receive it as soon as possible!. Really can't wait to have you around son! Thanks
Love
Isobel
_________________________________________________________

Mum
Excellent!
I am on the way to the western Union now with Jimmy McFlannery who will act as wittness to the withdrawal. He is a really good enforcer as he works for African Interpol Inforcment Department. He is off to Ghana next week to enforce an extradition order for some internet fraudsters who defrauded the son of the Prime Minister of €20,000! I am sure 10 years on the Craggy Island Prison Labour Camp will put them right look what it did to Charlie Haughey!!!
Got to Rush or the bank will have closed for 12:00 prayers for the respite of the Virgin Mary's perinatal contractions.
———————————————————————————————-
Ok son, my regard to jimmy, the internet seems to be no longer safe! Well I can see that the government is really trying to put a stop to all the fraudulent activities on the internet, and also I am proud that my son is part of its team! Ok son stay safe! You can send me the MTCN once you are through in Bank.
Love
Isobel
———————————————————————————————–
On Jimmy's instruction and he knows about this sort of thing, it is his job after all I have used the Irish Western Union Special Instructions for payment. He says this makes it safe for you and for Daniel.
Here is the receipt from the WU
Love
Steve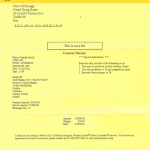 <== The Fake WU receipt

[Editors Note the special phrase on the WU for = I have extemly large testicles]
———————————————————————————————
Ok thanks son! I should forward the receipt down to daniel now.
Love
Isobel
———————————————————————————————–
Mum
Great news … I am just having a quick plate of Christmas Irish Turnip and Hedgehog soup (not as good as you used to make) down at the Gardai Station before I put on the festive red Gardai cap and off to wrangle the donkeys for the Christmas Parade!
Poor old Liam McNoogerty has to look after the camels and the wise men and wait till you hear the wise men are all from Offaly!!! Isn't that the funniest thing!!
See you later Love Steve
________________________________________________________
Hey son!
That's great! Enjoy yourself, and be careful you festival like this can be dangerous at times!, and daniel told me that he is out of ireland that he is in london now. Can anything be done?
Love
Isobel
————————————————————————————————
Mum
I am kind of busy just now the Virgin Mary has started labour in Brown Thomas's window and I cannot leave the donkey's unguarded. I will see if I can slip away before the WU offices close
Steve
(sent Via Mighty Shamrock Mobile)
———————————————————————————————–

Ok son!
Thanks for helping me. He said that he will get the money by friday morning, I'm sure he will get it, so don't bother yourself again, I will get back to you on  friday morning. And hope your day went smooth and the festival was fun. Do take very good of yourself son. Thanks
Love
Isobel
——————————————————————————————-

Mum
Righty ho! That is good because the build up to Midnight Mass is well underway and I have nipped off for a cup of coffee before the fuss starts.
Joesph and Mary have arrived at the Inn and are in the stable that has been prepared for them next to the Perfume Display in Brown Thomas's windows the donkeys are a bit restless but that is because there is a bit of a blizzard in Dublin just now so there is. There was a moment of crisis when one of the camels tried to get on the 220 bus to Ballymunn but my mate Jamesy managed to get it off, thankfully all the shoppers thought it was part of the show so it was OK
I will see you on Thursday morning as expected and if there are problems I can sort out then. It will be good to get back home and see the rest of the family. Has cousin Kevin got over his "problem" i know the doctors were very worried when he started to think he was Yoda and that Ballygofumblewank was in the outer rim.
Love Steve
———————————————————————————————–
Merry xmas son,
Glad to know that you are ok, and everything went well yesterday.
And I heard the banks will start its operations on friday, well I'd be glad to have you around son. And do take very good of yourself.
Love
Isobel
————————————————————————————————
You Sir or indeed Madam are a Crook!
More than that you are a good for nothing reprobate, a cheat and a schoundrel who would pretend to be someone's mother for finanical gain and at Christmas too something that is SURE to make the baby Jesus cry!
I was aghast, shocked and angry to discover on telephoning my mother to wish her a Merry Xmas that she knew nothing about this at all! I also contacted Father Mallloy and he has NEVER heard of a Daniel Morgan attached to the church or otherwise! What Perfidity is this????????
I have of course phoned Western Union and stopped the money order, sending them your details and forwarding all correspondence. They were most interested to hear their good services were being used in this manner and have "Red Flagged" the transaction so that any person trying to cash it it will find themselves detained and investigated thoroughly.
In consultation with my colleagues in the Internet Fraud office, once Western Union have caught you and handed you over to the relevant authorities then we will begin extradition proceedings and the cold frosty cells of the Father Dougal Penitentiary on Craggy island await you, you nefarious jackanape!
I am insensed and were I not a serving member of the Gardai I would be inclined to seek a more physical retribution for your crimes. You may not be aware of this but from ancient times impersonating a mother in Ireland is a crime considered beyond forgiveness. As I am constrained by an oath to protect the law my options for revenge are somewhat limited so I had a meeting with my Father Confessor and he assured me that while wishing ill on another human was indeed sinful it was perfectly acceptable in cases of mother impersonation and/or Protestantism  to suggest in prayer form a catalogue of punishments to Saint Leonard that he might pass these on to the demonic horde so that should you pass from this earth an unrepentant soul they can have your punishment cell ready and your eternal torment can begin immeadiatly.
Believe me, I would attend to your spiritual salvation with uncanny haste for should you wake up tomorrow dead, eternity for you will be an very unpleasant time of having things inserted into orrifices that were not designed to take Pineapples, Porcupines, Orbital Sanders and Red Hot Pokers> I have also added the provision that your own crying mother is to watch as the child she brought into the world is brought low.
I do hope we never meet and you have a long and happy life, the alternative i assure you is too awful to imagine!
———————————————————————————————–
… and so it ending…. Perhaps